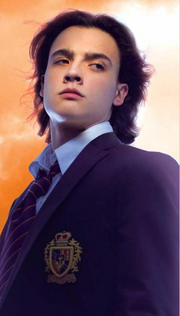 Admins are the group of members who share most of the same powers as the Site Creator, Micah.
Current Admins
Edit
1. Thefisherman--- Commonly known as Fisher or Fishy. Fisher is considered an original member, having been a member of all 3 iterations of the site. He is the youngest admin and thus the slightly more playful and goofier compared to the other 4. He has a good heart and a fun personality and is quite helpful...if you are able to get him to stop talking about the magic pickle. Joined October 8, 2011
2. The Nemesis-- Referred to as Nemesis or Nemmy, is the more balanced and goodnatured of the 5 Admins. Nemesis retains a lot of Fisher's playful nature but is often more mature and is a fast thinker. He is very creative and usually has 3 or 4 different ideas for something new on the site at one time. Joined October 19, 2011
3.

Koule

- Koule is the only Female Admin of Fayz Nation and one of the first members of Fayz Nation. She is a beast at soccer as well as a diehard twilight fan. She is very compassionate to others as well as quite sarcastic but usually in good fun. She has her own language called "Koule Speak" which usually consists of ... and random emoticons. She is Morgan's Girlfriend. Joined Fayz Nation on October 8, 2011
4. Richietheassassin- Usually called Richie, Richie is a special Member. He holds dual memberships to both GP and Fayz Nation and has proven that some people ARE capable of looking past rivalries and having a good time. Richie is a very laidback member, though is easily annoyed. But he has proven himself to be a great addition to the family. He is a good member and our newest Admin. Joined November 20, 2011.
5. ApsciMorgs--Morgan, commonly called Morgs, is another GP/Fayz Nation dual member. Wise Beyond his years, you usually find him saying sweet nothings to his girlfriend. Morgan has a unique sense of humor that if someone else said half the stuff he says, it wouldn't be funny or interesting. Morgan is in charge of the RPGs :). Joined November 6, 2011

Together all 5 make up the admin team and each strengths and weaknesses balances out the others and are a great asset to the site.
Abilities
Edit
All Admins retain the powers of Moderators but only certain admins have nearly all the powers of Site Creator, Micah, except for stuff like deleting the site or buying stuff or changing the format.
They are great assets for when Micah is not available to handle a situation.